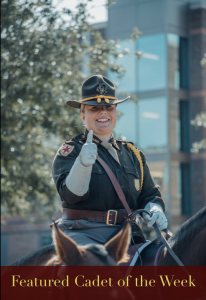 Meet This Week's Featured Cadet of the Week: Brittany Dennis!
Brittany is a Senior Political Science and Russian double major in A-Battery from Mont Belvieu, Texas! When asked why she joined the cav, she said "It was always a dream of mine to ride horses, and when I saw the Cav ride in to Campus on a game day when I was younger, I knew that's what I wanted to do. I worked as hard as I could to make that dream become a reality." Brittany's favorite memory is a tie between riding in the Rose Bowl parade and getting the unique experience as a training officer of PMC to see the Sophomores we trained from the ground up ride in front of thousands of people in their first game day experience this past year. She said that she has learned while in PMC that, "not everything goes according to plan, you must be flexible and patient in order to keep the mission going. It is important to never lose sight of perspective and to learn to trust yourself and your peers because that is what will get you through anything."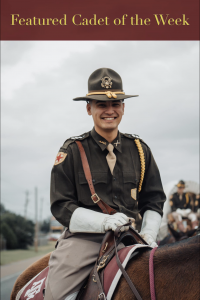 Meet Our Featured Cadet: Matt Conrad!
Matt is a Senior Animal Science major in A-2 from Seoul, South Korea. He first joined the cav to further his knowledge in horsemanship and to increase his skills for vet school. Matt says that he has learned while in the PMC that, "Sometimes you will get put in a situation that you don't think you're prepared for. Make sure you trust in the support of your peers and what you already know and everything will be okay." He says that he will always remember his time going out to the green every week and riding with his fellow Cav Jocks.
Meet Our Featured Cadet: Harrison Matthews!

Harrison is a Junior INTS major in K-2 from San Antonio, Texas. When asked why he wanted to join the Cav he said, "As a freshman I had a lot of Cav jocks in my outfit that I really looked up to and they convinced me that the cav was the best special Unit in the Corps." Harrison's favorite memory was firing the Spirit of '02 for the first time in Kyle Field. He said while being in the cav he has learned the value of hard work and commitment to something much bigger than himself.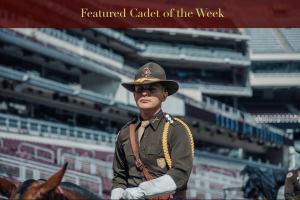 Meet Our Featured Cadet: John Hagerty
John is a Senior University Studies Agriculture and Life Sciences major in Company B-1 from San Diego, CA! He first joined the Cav to learn about proper horsemanship and have some once in a lifetime experiences. John's favorite memory was helping plan PMC's trip to the Rose Bowl and getting to ride in front of his family in California. He said, "It was an amazing experience to be part of such an undertaking and to showcase A&M to my family and friends." John said that PMC has given him a variety of opportunities to grow and develop himself and make lifelong friends.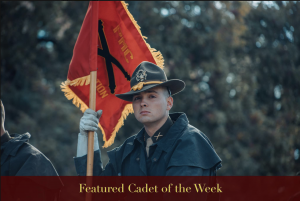 Meet Our Featured Cadet: Payton Denning
Payton is a Junior Animal Science major in Gator-2 from Cleburne, Texas! He first joined the cav to learn what true horsemanship is all about and to make lifelong friends in the process. Payton's favorite memory was firing the Spirit of '02 for the first time in Kyle Field. He said, "it was a surreal experience to be on the field and apart of an A&M tradition that has lasted so many years." Payton said that PMC has given him many opportunities that he can carry on and use in the real world with a hopeful ranching career.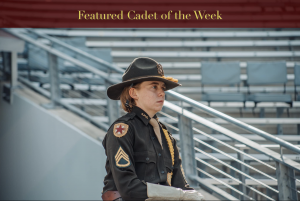 Meet Our Featured Cadet: Jordan Smith
Jordan is a Junior International Studies and English double major with a Business minor in B-Battery from Venus, Texas! She first wanted to join the cav because of her childhood obsession with horses and her dream to learn how to ride. She unfortunately never learned to ride a horse as a child, and saw the cav as an opportunity to achieve her childhood dream and to be a part of something very unique. Jordan's favorite memory has to be the first time she rode into Kyle Field and passed the Aggie Band. She said, "So many of my friends and buddies cheered me on that it almost spooked the horses. I remember feeling so happy and proud of what I had accomplished so far in PMC." While in the cav, Jordan has had the opportunity to serve as a member of the Vet Chain where she has learned about veterinary work and helps ensure all of our horses are healthy and well taken care of.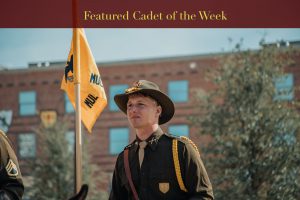 Meet our Featured Cadet: Douglas Handley
Doug is a Senior Construction Science Major with a Minor in Business Management in L-1 from Flower Mound, Texas! He first joined the cav to learn more about teamwork and horsemanship and to seek a challenge that was greater than a normal Corps experience. When asked about his favorite memory from his time in the cav he said, "My favorite memory was receiving my yellow cord and whitey with my buddies after work week. Knowing that I achieved a long term goal and went through a shared struggle with my buddies was really personally inspiring." Doug has learned a lot about teamwork, peer leadership, and how to deal with stressful and dangerous situations from his time in the cav, which are all skills he said he will use later in life.