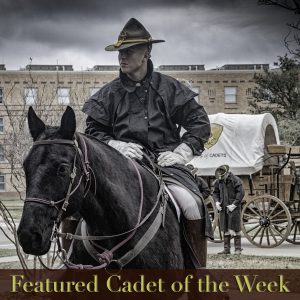 Meet This Week's Featured Cadet of the Week: Matthew Awalt
Matthew Awalt is a Senior Agricultural Economics major from Conroe, Texas. Matthew served as the XO this year. Matthew said arriving back to College Station after the Rose Parade has been his favorite memory. He said, " The overwhelming feeling of accomplishment from completing the road trip successfully with no injuries to horses or unit members was hard to beat." He says that he has "learned an immense amount from the Cav, Col. Gardner, and Mr. Byrns. The two most important things I believe are the value of hard work, and how important good friends are. The bond that I have between my Cav buddies from shared adversities/experiences has and will continue to impact me greatly."
Also pictured with Matthew is Rocky. Rocky is a 16 year old draft horse and came to us with his buddy Ranger from Todd Shockey.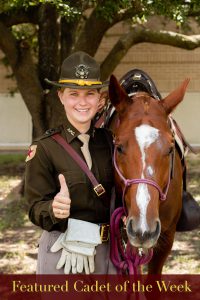 Meet our Featured Cadet: Hattie Smith
Hattie is a Senior Animal Science major from Chiang Rai, Thailand. Hattie said she joined the cav because, "Paired with my growing love for horses and training, growing up my dad would show me videos of the Cav. I watched those videos and knew that I wanted to do that when I joined the Corps because of the camaraderie I would develop with my buddies and the once in a life-time experience to work with horses in this capacity." Hattie says the she has, "learned the importance of having confidence in yourself, but also in your unit. When we are at a parade and a horse may become spooked, we must be confident that we can control our own horse, but also that our buddies are there to help in anyway they can so that we can have a successful operation. Having trust is critical in PMC."
Also Pictured with Hattie is Ice Cube. Ice Cube is an 11 year old sorrel quarter horse. Ice Cube came to us from Texas A&M Athletics.
Meet our Featured Cadet: Blane Counsil
Blane is a Senior Ag Economics & Public Policy major from Madisonville, TX. Blane first joined the Cav "to get away from the hustle and bustle of main campus and apply my rural background and skills to benefit a larger organization." Blane says that the Cav has, "given me a group of friends that are highly relatable with whom I share a similar mission and responsibility. I enjoy being able to ride and relax with each member of the unit while participating in the highly enjoyable hobby of horseback riding."
Also pictured with Blane is Pierre. Pierre is an 18 year old Warmblood. Pierre is english trained and came to us from Texas A&M athletics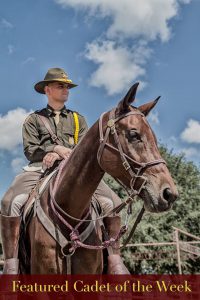 Meet our Featured Cadet: Travis Twining
Travis is a Senior Animal Science Major from Magnolia, TX. Travis also was recently accepted into the Veterinary School at Texas A&M. He says that he has learned from his time in the cav that "there is a difference between being a good rider and being a good horseman. To be a good horseman, what you do on and off the horse and how you interact with others matters. What I have learned about good horsemanship will undoubtedly help me in my future career as a veterinarian." Travis says, "My favorite memory from the Cav was on a hot August day during Work Week our Junior year, when our seniors instructed us to break rocks due to our apparent bad attitude. When asked what we had learned, I responded a little louder than I anticipated, "It's hot!" Of course, that didn't help our situation and we carried on breaking rocks for some time after that. I'm not sure if my class has forgiven me to this day, but it has given us something to laugh about." 
Also pictured with Travis is Will. Will is an 11 year old Registered Holsteiner Horse. Will is english trained and came to us from Texas A&M athletics.
Meet our Featured Cadet: Teagan Vander Straten
Teagan is a Senior Biomedical Science Major from Georgetown, TX. Teagan just recently got accepted into the Veterinary School at Texas A&M. Teagan says, "The Cav has definitely taught me how to manage adversity. I am so much more confident in my ability to handle sticky situations both with horses and with leading people, which will serve me well as I attend veterinary school at Texas A&M starting in the fall and for the rest of my life as a veterinarian." She says her favorite memory is riding the Rose Bowl parade, "We had put so much work in during the trip to California and had spent all night before the parade standing out in freezing weather; I think we were all pretty worn out. But when we started the parade and so many Aggies and other fans were cheering for us, it immediately put a smile on my face. It was certainly a special opportunity to represent Texas A&M in such a huge way, and it's a memory I'll hold with me forever."
Also pictured with Teagan is Teddy. Teddy is a 13 year old quarter horse. Teddy also came to us through the Texas Department of Criminal Justice.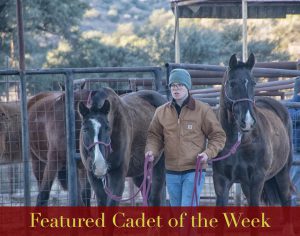 Meet our Featured Cadet: Cal Naughton
Cal Naughton is a Junior History and Economics major from Southlake, TX. Cal says that, "The Cavalry has definitely made me more confident as a leader. Riding was new to me and often I was anxious and uneasy. But over time, I learned to relax and do what I had been taught. Also, through taking care of the horses, I've learned to take care of the people I'm leading in the same manner." When asked about his favorite memory he said, "For the Kentucky game, we spent a fair amount of time dismounted before the actually march-in. While we were waiting, lots of kids and fans kept walking up to pet my horse, Sam. It was funny because the kids were shy initially but eventually warmed up for pictures. It was very rewarding to show people something I was so passionate about and that had such a rich tradition." 
Also pictured with Cal on the right is Johnny and on the left is Ranger. Johnny is a twenty year old warmblood. He is English trained and came to us fromTexas A&M Athletics. Ranger is a draft/quarter horse cross and he came to us with his buddy Rocky.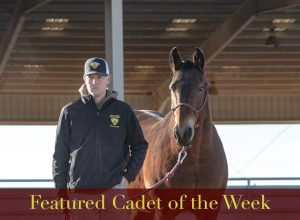 Meet our Featured Cadet: Jacob Angst
Jacob Angst is a Junior Industrial Distribution major from Cypress, TX. Being in the cav has allowed Jacob to learn new skills and expand his connections on the quad. When asked about his favorite memory from his time in the cavalry he said, "Riding in for College Gameday when it was pouring rain. As soon as march in started the rain stopped and it was cool to see everyone come out and support the Corps." 
Also pictured with Jacob is Momma. Momma is a twelve year old quarter horse mare. She came to us through the Texas Department of Criminal Justice. Whenever she is not with the cadets, she is used as a therapeutic riding horse for Courtney Cares.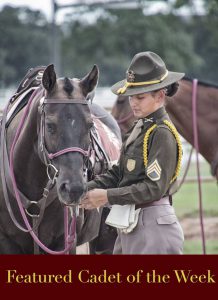 Meet our Featured Cadet: Karen Jaimes
Karen Jaimes is a Junior MMET major from Arlington, Texas. Karen joined the Cav because of her love for horses that started at a young age and the leadership she saw displayed in public. She said the Cav has impacted her life the most because, "The discipline you obtain in the cav is different and unique than in any other place. You don't only do what your told but your superiors won't demand something of you they're not willing to take upon themselves." 
Also pictured with Karen is Artie. Artie is a registered solid paint horse. He is the name sake of our building donor Artie McFerrin. He is an english trained horse and he was donated by Rachel McClere.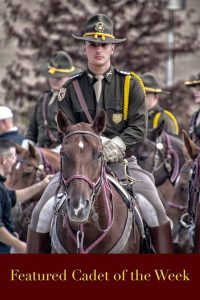 Meet our Featured Cadet: Cain Brown
Cain Brown is a Senior Environmental Studies Major from Paris, Texas. Cain said he has learned how to better lead people and motivate others through his time in the Cav. One of his favorite memories includes making stairs out of the side of a hill with a pickaxe as a new horse obstacle used for training.
Also pictured with Cain is Rusty. Rusty is a sorrel quarter horse donated to us by Michael Conley. Previously he was a competitive shooting horse and came to us from California by way of Colorado with his buddy Chex.
Meet our Featured Cadet: Mary Norrell
Mary Norrell is a Senior English Major from Bedford, Texas. Mary has said that she has learned so much over the past two years in the Cav. She has learned the ability to work under pressure and expanding her willingness to try new things. When asked what her favorite memories are she said, "The day it was pouring rain on game day, because everyone learned a lot and we all laughed through it, or riding through the trails with buddies and learning new skills in doing so." 
Also pictured with Mary is Sport. Sport is an Irish Sport Horse. He came to us through Houston Mounted Patrol unit. He is 13 years old, very energetic and requires a level four rider.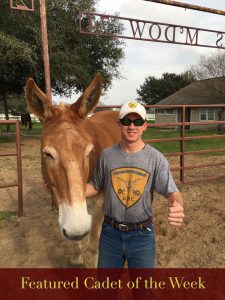 Meet our Featured Cadet: Charlie Traugott. 
Charlie Traugott is a Junior Telecommunications Media Major from Victoria, TX. Charlie is following in his father's footsteps. Charlie's father, Todd Traugott was in the Parsons Mounted Cavalry class of '91! Charlie is pictured here in his father's shirt from when his class worked on the Old Barn. Charlie says he has learned how to be a good listener and how to strive for perfection during his time in the Cavalry. 
Also pictured is Mandy. Mandy is a draft mule donated along with her four full sisters to Parsons Mounted Cavalry by J. Mack Bohn with Diamond H.K. Ranches. They were originally part of an 8 mule hitch in Oklahoma. They are highly voiced trained and have taught over 50 cadets how to drive a mule team since they arrived.
Meet our Featured Cadet: Randall Nelson 
Randall Nelson is a Senior Construction Science major from Victoria, TX. Randall serves as the First Platoon Sergeant. He wanted to join the Cavalry to be apart of a special unit with people that wanted to be there and to work above and beyond. When asked how the Cavalry has most impacted his life, he said, "I have been given the opportunity to learn about horses and how to communicate with them. Being able to communicate with an animal that speaks a different language has lessons that transfer over into communicating with people." Randall is currently working on an internship and is not with us this semester.
Also pictured is Chaz. Chaz is an 8 year old quarter horse. Chaz has been with us about 8 months. He has a full brother named Pete who is also in the Cav. He is a western pleasure horse and extremely friendly!