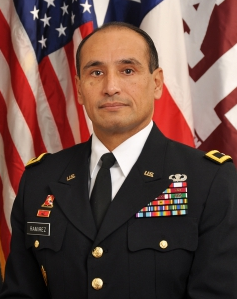 Joe E. Ramirez, Jr. '79, Brigadier General, USA (Ret.)
Brigadier General Joe Ramirez is a native of Houston, Texas and is a graduate of Texas A&M University, where he was a member of the Texas Aggie Band in the Corps of Cadets. He received his commission in the United States Army Field Artillery from Texas A&M in 1979 as a Distinguished Military Graduate.
During his 31 years of military service, General Ramirez commanded soldiers around the world and served in leadership positions in various joint and operational commands. He was the Deputy Chief of Staff for United States Central Command during Operations Iraqi Freedom and Enduring Freedom, and was the Deputy Division Commander for the 2nd Infantry Division in the Republic of Korea. His most recent assignment was Deputy Director for Strategy, Plans, and Policy for US European Command in Stuttgart, Germany.
General Ramirez holds a Bachelor's Degree in Physical Education from Texas A&M (1979); a Masters Degree in Management from Webster University, St. Louis, Missouri (1993); and a Masters Degree in Strategic Studies from the United States Army War College, Carlisle, Pennsylvania (2000).
His numerous military awards include the Distinguished Service Medal, Defense Superior Service Medal, Legion of Merit, Korean Defense Service Medal, and the Parachutists Badge.
Bob Byrns '74
Cavalry Site and Horse Manager
Bob Byrns works for The Corps of Cadets, Office of theCommandant and is the Manager/Advisor for Parsons Mounted Cavalry. He has been in this role since 2004. Bob has 20 years experience in saddle fitting and restoration and repair of all leather items. Mr. Byrns is a level 4 CHA Riding Instructor in Western, English, and Jumping Equitation and an Assistant Clinician. He is also certified in Instruction of Riders with Disabilities. Mr. Byrns oversees horse operation for Courtney Cares which is a therapeutic and veterans riding program that uses PMC horses. Bob is a 1974 graduate of Texas A&M. He was a member of the Corps of Cadets and is a founding member of PMC.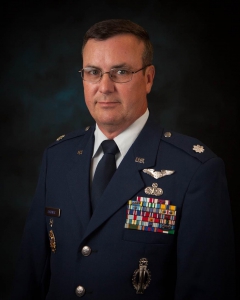 Jeff Gardner '82, Lt. Col. USAF (Ret.)
PMC Military Advisor
Lt Col Gardner assumed the position as the Director of the Sam Houston Sanders Corps of Cadets Center and External Support in August 2008. Prior to his current position, he served as the 1st Wing Cadet Training Officer for the 2007-2008 academic year.
Lt Col Gardner attended Texas A&M University where he was a member of Squadron 2 and Parsons Mounted Cavalry. He graduated with a degree in Mechanized Agriculture and was commissioned a 2nd Lieutenant in the Air Force on 13 August 1982. Lt Col Gardner earned his Masters of Public Administration degree from Troy State University and is a graduate of Air Command and Staff College, Armed Forces Staff College and Air War College.
His many assignments include one Major Command Headquarters Tour and two Joint Level Headquarters Tours. Lt Col Gardner spent six years in the European Command and served twice as a training Squadron Commander. He culminated his 25 year career as the Professor of Aerospace Studies and Air Force ROTC instructor at AFROTC Detachment 805 at Texas A&M.
Amanda Bradbery
PMC Riding Instructor
Ms. Amanda Bradbery grew up in Chester, Virginia where she spent much of her time riding and showing Hunter/Jumper thoroughbreds. She began attending Virginia Tech in 2008 where she was a member of the Virginia Tech Equestrian Team, Horse Judging Team, Block and Bridle Club, and a student worker at Virginia Tech's Campbell Arena. After graduating with a B.S. in Animal Science in 2012, Ms. Bradbery remained in Blacksburg, Virginia as the Virginia Tech Campbell Arena Supervisor where she supervised student workers, and taught beginner and intermediate riding courses.
In 2013 Ms. Bradbery began her studies at Texas A&M University. In 2014, while working under Dr. Josie Coverdale, she earned a Master of Science Degree in Animal Science with a focus in Equine Nutrition. She is currently pursuing her Doctoral Degree in the same field.
Since coming to Texas A&M Ms. Bradbery has been working as a graduate teaching assistant to Parson's Mounted Cavalry. She teaches PMC Cadets horsemanship and riding skills from beginner to advanced levels. She is also involved in many PMC events such as football march-ins, parades, and other public events.